Army has released JAG 19 Course notification. Applications are invited for JAG officer posts by the Indian Army. Check out eligibility criteria and how to apply for Army Judge Advocate General jobs here.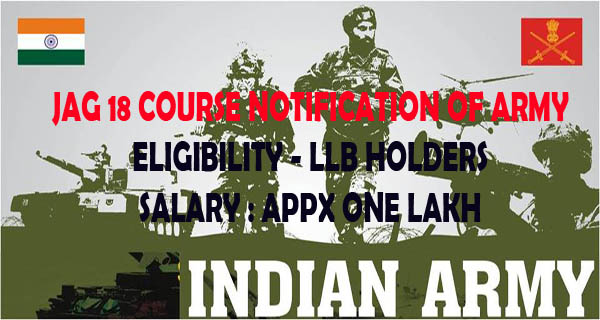 Eligibility Criteria
Who can Apply? Both Men and Women
Minimum Age Limit : 21 Yrs
Maximum Age Limit : 27 Yrs
Qualification :
Last Date To Apply : 28 Feb 2017
Other Qualifications Required :
In order to apply for JAG 18th course you need to fulfill the following eligibility criteria.
You must be an Indian citizen.
You should have scored minimum 55% marks in LLB.
You should be eligible for registration with Bar Council of India / State.
You should be physically and mentally fit to serve in the Army.
Judge Advocate General course of Indian Army is exclusive for future officers of Indian Army. JAG branch of Army is legal branch and is responsible for all legal battles of Indian Army.
If you are an law graduate and want to join Indian Army as a commissioned officer, then Judge Advocate General course is an absolutely correct way for fulfilling your dream.
How to apply for JAG 19 course of Army
In order to apply for Army's JAG 19 course for men and women, you need to register on Indian Army's official website and then apply online for JAG course. Applying for JAG course is easy. Just fill up correct details in the JAG online application and after submitting take printouts of the submitted application.
Once last date to apply for JAG course is over, Army will shortlist candidates for 5 day SSB interview. In order to become a commissioned officer of Indian Army through JAG course, you must crack SSB interview. So after applying for JAG 19th course, start preparing for SSB.
After getting recommended in SSB interview, you will undergo medical examination in which complete body check up is done.
Army JAG 19 Course Officers Training
All candidates who are selected by the Indian Army for JAG 19 course will undergo training at Officers Training Academy, Chennai. Duration of JAG 19 course is 49 weeks. All trainees who complete the training successfully will be placed in the rank of Lieutenant (Lt).
Candidates will not be permitted to marry or live with their family during the 49 week training at OTA, Chennai.
After completion of JAG 19 course training, a Post Graduate Diploma in Defence Management and Strategic Studies will be awarded by University of Madras.
Probation Period
A six month probation period is applicable for all candidates who are commissioned through 18th JAG course of Indian Army. Probation period starts the day candidate is granted the commission. During the probation period, if Army feels that a candidate is not suitable, then the candidate may be terminated.
Once selected, you will be liable to work anywhere in India and abroad.
Vacancies of JAG 19 course
There are total 14 vacancies in JAG 19 course. Out of 14 vacancies 10 are reserved for men and rest 4 vacancies are for women.
Last date to apply for Indian Army's JAG 19 course is 22 Feb 2017.
---