Check out Indian joint military exercises with other friendly countries here. Read to know about exercise code names and countries participating.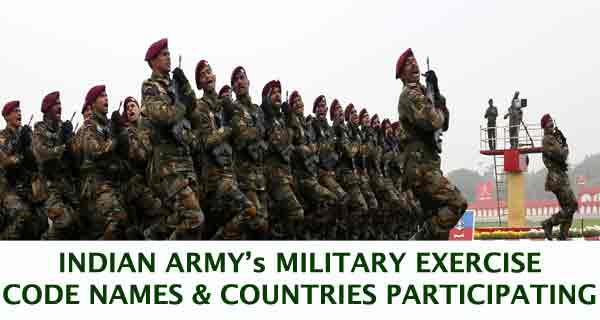 Indian Army is a huge organisation and one of the best places to work in India. It gives regular training to its employees along with a handsome salary. It's like you are getting paid to stay fit.
Apart from personal benefits, the Indian Army gives the opportunity to its soldiers to collaborate and work with soldiers of friendly foreign countries. It conducts regular exercises and exchanges with these countries.
The joint military exercises conducted by Indian Army with foreign countries are:
AUSTRA HIND: This joint exercise is conducted between the armies of Australia and India.
SAMPRITI: This exercise is an Indo-Bangladesh Joint military exercise aimed at counter-terrorism and disaster management operations.
HAND IN HAND: This joint exercise is a bilateral Indo-China military exercise which aims to enhance cooperation and maintain peace and tranquillity along border areas of both countries.
SHAKTI: This exercise, held between India and France aims at counter-terrorism and counter-insurgency.
GARUDA SHAKTI: The exercise is conducted with the aim to build and promote positive relations between the armies of India and Indonesia.
PRABAL DOSTYK: Exercise Prabal Dostyk enhances interoperability while undertaking Counter Terrorism & Counter Insurgency Operations in the rural & semi-urban environment under the umbrella of United Nations.
KHANJAR: Held between India and Kyrgyzstan, the exercise is focused on training of Special Forces Specific Platoon/troop level tactics and techniques in mountainous terrain.
EKUVERIN: This exercise is held between India and Maldives to conduct military training between armies of both countries with emphasis on amphibious & counter insurgency, counter terrorism operations.
NOMADIC ELEPHANT: The annual exercise between India and Mongolia seeks to promote military associations between Indian and Mongolian armies.
KHAN QUEST: Khaan Quest is an annual United Nations peacekeeping exercise. This multilateral exercise is hosted annually. It consists of armies from about 15 countries.
SURYA KIRAN (BIANNUAL): This is a two-week long battalion level joint exercise between armies of India and Nepal. It focuses on skills required for natural disaster management, counter-insurgency and jungle warfare. It is held twice a year.
AL NAGAH: Exercise Al Nagah was held for the second time in March 2017 between India and Oman. The 14-day joint exercise aims to acquaint both forces with each other's operating procedures in the backdrop of counter insurgency, counter terrorism environment.
INDRA: The 'IND' in the name of exercise INDRA stands for India and 'RA' stands for Russia. The bi-annual exercise serves to facilitate cooperation and foster the exchange of relevant experience between the Indian and Russian armed forces. The exercise is also held between the navies of the two countries under the same name.
LAMITIYE: It is conducted between armies of India and Seychelles. The exercise is conducted biennially with the aim of enhancing military cooperation and interoperability between the two countries.
AGNI WARRIOR: This exercise is held between armies of India and Singapore. The joint exercise provides valuable opportunities for both sides to understand each other's doctrines and tactics, as well as enhance mutual understanding and interoperability.
BOLD KURUKHESTRA: While Exercise Agni Warrior is bilateral artillery exercises between India and Singapore, Exercise Bold Kurukshetra is bilateral armour exercise.
MITRA SHAKTI: This exercise is held between India and Sri Lanka. The main focus of this joint exercise is to enhance interoperability while carrying out Counter Terrorism (CT) and Counter Insurgency (CI) operations under the UN Mandate.
MAITREE: Exercise Maitree is conducted between India and Thailand with an aim to increase mutual cooperation and interoperability between the Indian Army and Royal Thailand Army and to improve understanding of each other's tactical drills and actions in counter-terrorism operations.
COBRA GOLD: Cobra Gold is an Asia-Pacific military exercise held in Thailand every year. It is the largest Asia-Pacific military exercise held each year and is the largest multinational military exercise in which the United States participates.
AJEYA WARRIOR: The Exercise is held biannually in India and UK, alternatively. The aim of the Exercise is to build and promote positive military relations between Indian and UK Army and to enhance their ability to undertake joint tactical level operations in Counter Insurgency/Counter Terrorism Environment under United Nations Charter.
YUDH ABHAYAS: The annual exercise strengthens and broadens interoperability and cooperation between the Indian and US armies.
VAJRA PRAHAR: It is the joint training exercise of the Special Forces of India and the US. The Special Forces of the two countries resumed their joint training exercise, Vajra Prahar, after a gap of four years in 2015 and are being held since then.
Summary:
Exercise

Held with

Ex AUSTRA HIND

Australia

Ex SAMPRITI

Bangladesh

Ex HAND IN HAND

China

Ex SHAKTI

France

Ex GARUDA SHAKTI

Indonesia

Ex PRABAL DOSTYK

Kazakhstan

Ex KHANJAR

Kyrgyzstan

Ex EKUVERIN

Maldives

Ex NOMADIC ELEPHANT

Mongolia

Ex KHAN QUEST

Ex SURYA KIRAN (BIANNUAL)

Nepal

AL NAGAH (SUCCESS)

Oman

Ex INDRA

Russia

Ex LAMITIYE

Seychelles

Ex AGNI WARRIOR

Singapore

Ex BOLD KURUKHESTRA

Ex MITRA SHAKTI

Sri Lanka

Ex MAITREE

Thailand

Ex COBRA GOLD (Observer Plus)

Ex AJEYA WARRIOR

UK

Ex YUDHABHAYAS

USA

Ex VAJRA PRAHAR