Selfies are a great way to capture and relive the past. But have you ever thought about having a phone which may deliver perfect selfies? Read on to know how to capture a perfect selfie.
My Selfie Experience
The trend of taking a selfie has caught up the pace so quickly that all of us capture and relive our happy/sad moments. It may be a reunion of a college or a results day - selfie has crept in to capture the beautiful and precious moments.
Let me share my selfie experience today.
I am also a great selfie freak who try to capture each and every moment of my life with selfies even though I look sheepish when I request others to join me.
Here are few of my best selfies which actually may not impress you until unless you came to know about the location/occasion.
Selfie No. 1
Here is the first selfie which I can correlate with the venue where I had taken this selfie. But can you guess where this selfie was taken? Think!

I am sure that no one would have figured out the location and no detail was captured abut the place.
Actually, I have taken this selfie at INOX multiplex. When I shared this picture on my FB account, then most of my friends have asked where we were having fun!
Selfie No.2
Here is my selfie No.2. Any guesses?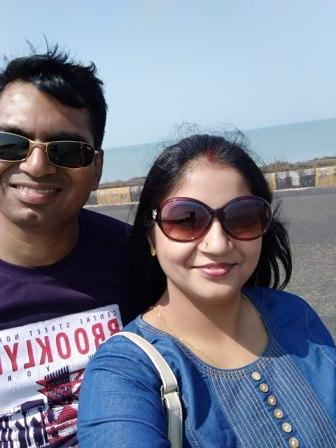 Above selfie was taken near Rozi port. To my disguise, no one could even recognize the magnificent view of the Arabian sea. I had to explain explicitly about the background view while sharing the photo on social media. Worse, I had to share another picture from which the view of the Arabian sea was clear.
Selfie No.3
Now at No. 3, the below selfie could be easy to guess. Though you may not guess the exact location, you will easily be able to guess that it might be taken in a temple or palace. To my surprise, my friends who have been visiting this place for a number of times could not recognize the location.
This selfie was taken at Akshardham temple located in my city.
Selfie No. 4
Here is my last selfie which was taken when I had visited the Sasoi dam with my family and friends. You might be wondering that this is not a selfie. Yes! you are correct. This is not a selfie but a photo captured by my friend. What fun if I had to explain the location to all friends after sharing the selfie on Facebook or Twitter.
How to make selfies picture perfect?
After analyzing I have come to the conclusion that even though selfies are a great way to capture and relive the memories, one needs to have a great phone which could focus on capturing the perfect selfies rather than a simple 13MP front camera. Not only quality but also selfie camera should be able to capture wide-angle so that the maximum details of the surroundings can be captured.
Apart from these, the most important thing - the phone must come within the budget.
Capture perfect selfies with Mobiistar mobiles - Economic, Wide-Angle and Perfect Selfies
Mobiistar - Vietnam's leading mobile manufacturing brand is all set to launch its exclusive perfect selfie mobiles which will be available for purchase on India's leading e-Commerce website, Flipkart. The phones feature an excellent selfie camera and powerful Snapdragon processor. Also, the Mobiistar phones have dual selfie camera which can capture a 120-degree wide-angle shot to make your selfie into a perfect selfie. With Mobiistar XQ Dual and CQ mobiles, you will be able to capture perfect selfies which have both your friends and picturesque background all in one single selfie.
So go on and buy selfie camera phones of Mobiistar on Flipkart and make your selfies perfect ones.