Psychological tests are very tricky as one gives out information about oneself unknowingly. During SSB interview also many aspirants reveal their real qualities without even knowing. Check out how can one improve to perform well in psychology tests.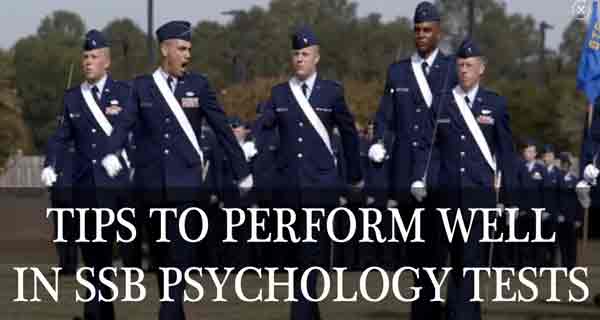 Psychological Tests are conducted generally on the first day of Stage-2 testing of SSB. Being the first part of the basic principle on which the SSB testing is based – Manas, Vachan, Karma, the Manas, or psychology part is the first one to be tested.
A future officer is expected to have a mentality and attitude suitable to be trained at various rigorous military training academies. Since your Karma (actions) are based on your Vachan (words), Manas (psychological thinking) is the one that drives both of them. The SSB looks for a person having a perfect balance of what he thinks, and how it reflects in his words and actions.
Only the person whose psychology matches his words & actions is expected to get recommended by SSB.
Psychology cannot be just "changed" or improved in a month or two – or for that matter, a year or two. It will take continuous efforts and considerable determination to alter your psychology and thinking. But if you are passionate enough for the defence forces, you can take out determination from nowhere.
The reason that there is a less time limit for TAT, WAT and SRT is that if you are given more time, it will help you think of a more better answer and then it will not be the one that first came to your mind. Having a time limit restricts you from having second thought so that you write your first answer only.
Here's a catch, remember how we discussed in one of our articles that Screening test is a mini-SSB test of 1 day? There, the psychology part is the PPDT. How you perceive the picture and how you make a story out of it tells the assessor enough about your personality.
Tips to perform well in SSB psychology tests
People who get screened out tend to try repeatedly without changing a bit of their psychology and thinking. But as we said, it cannot be altered in a month or two, here are some tips by expert psychologists that could help you in moulding your personality for armed forces:
Maintain a Diary: A journal can be your personal assessor. It can help you record and track your achievements on the long run. Maintain a diary and keep a regular log of how much you have improved – it can be daily, weekly or twice a week. But don't go more than 1 week without recording your log.
Accept Challenges: This can be in your daily lives. The things that you wanted to do for so long but are very shy of doing it or telling someone else. Get up and do it. Embrace challenges, it will make you feel good and confident.
Take Failures Positively: Don't be that person who goes into a depression every time they meet a failure. In the armed forces, you are expected to boost the morale of your people and you can't do so unless you can handle yourself well.
Make a plan: Be it short term or long term. Make a plan of what you are going to do today. What will you do in your life ahead and so on. Chances are, if you don't have a plan, you'll be a part of someone else's plan.
Have solution if you have a problem: There isn't anything that cannot be solved. If you happen to point out at a problem, you better be ready for a solution to it, else, be quiet.
Be You: Lastly, check you for your natural instincts, not for something you are masking yourself with.
With these tips and implementation of it in your regular lives, we hope you will be the next officer in the making. All the best.