Vacha or speaking plays vital role in getting recommended in SSB interview. Check out how to improve speaking skills and public speaking skills in order to pass SSB interview. Must read for candidates preparing for any kind of interview.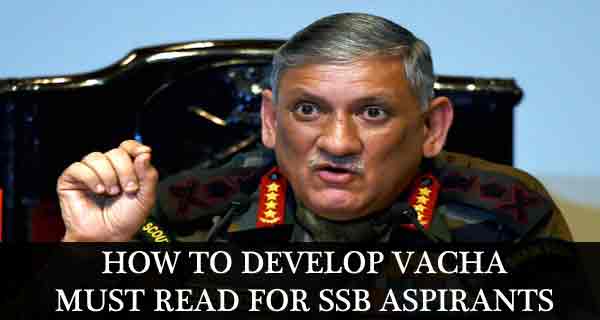 The second leg on which the whole SSB interview assessment is based is the Vacha – The words you speak. Vacha, or your words, should exactly be what you think and what is in your mind. For more details on this, read SSB Decoded- The Link Between Manasa, Vacha and Karmana.
In one of the previous articles, we have shown how can you practice developing a positive mentality for the Psych tests in SSB interview. In this article, we will tell you the secrets of good speaking skills and how to achieve it. Speaking skills matter in the Personal Interview, Group Discussions and Lecturette.
9 Tips to become a good speaker
Here are 9 Tips that you can follow to make you a better speaker.
Be Confident: Be confident and speak to as many people as you can. Do not fear to make mistakes The more you practice the better and more confident you will become in your pronunciation and vocabulary.
Practice: The best way to overcome anxiety is to prepare a lot. Take the time to go over your notes several times. Once you have become comfortable with the material, practice—a lot. Videotape yourself, or get a friend to critique your performance.
Listen: Good speaking skills comes with good listening skills. Listen to English news and songs, watch English movies and listen to how the words are pronounced. Just one hour a day is more than enough.
Read a lot: Reading, is the best way to increase your vocabulary. To express yourself you need words. To communicate you need to understand what the other person is saying, and this requires even more words. This will build up your potential to speak well.
Read out loud: Read the newspaper or a magazine out to yourself in front of a mirror. This is a great way to practice pronunciation because you only need to concentrate on making sure you English sounds great and don't need to worry about sentence structure or grammar.
Write: Writing is a great way to start producing the language. The main thing, however, is to write to get used to expressing things in the language, without the pressure of speaking with someone.
Learn from criticisms: Watch English news. Gauge their reactions, and their non-verbal language. Try to take the best out of it and implement in your daily life.
Add a new word to vocabulary daily: Everyday you come across a new word, write it down in your personal notebook along with its meaning, and try to use it in a sentence while you speak.
Have healthy debates: Debate all the topics that interest you with friends in English. Try to use as much vocabulary as you can to get your point across and listen to the other arguments carefully so you can argue against them effectively.
Ultimate idea of SSB interview selection board is to recommend those candidates who have OLQs required for becoming an officer in Indian armed forces and also those candidates who can express their thoughts accurately to others.
So if you want to be recommended in SSB interview there is no shortcut for success. Just work hard to improve communication skills and also you need to master public speaking skills.
So go on and prepare well for your SSB interview.
Check out recommended books to improve Vacha for getting recommended in SSB interview.