Arihant publishers is on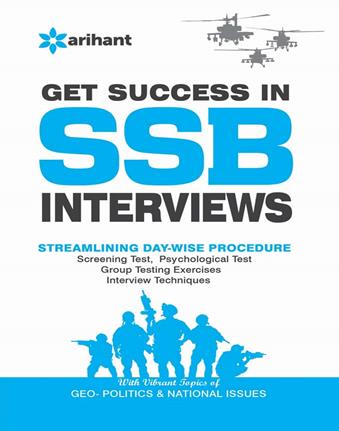 e of the leading publishers in India for bringing out the best books for competitive exam preparation. Latest book of Arihant publishers for SSB interview preparation is "Get Success in SSB Interviews". Let us see what is in the book for SSB interview aspirants.
The SSB book Get Success in SSB Interviews is written by Arihant Experts. 330 page SSB interview book covers all aspects of SSB interview testing procedure for first time appearing candidates. It explains each and every SSB interview test in detailed and easily graspable manner.
Get Success in SSB interviews book is divided into two parts. First part of the book covers SSB interview testing procedure along with best tips to impress SSB selection officers. Part I of the SSB book take you through Screening Tests, Psychological Tests, GTO tests and final conference procedure. The book will also give insight into what OLQs exactly looked by the SSB selection officers.
While the Part I of the book 'Get Success in SSB Interviews' gives you exposure of 5 day SSB interview, Part II of the book gives you latest study material on the following aspects.
Service related study material
Relationship of India with major countries of the world
SSB Group Discussion study material
Burning topics of national interest
Apart from the above topics, the book 'Get Success in SSB Interviews' provides adequate practice tests to crack SSB interview.
Actual price of the book 'Get Success in SSB Interviews' by Arihant publishers is 245 rupees.
Get Success in SSB Interviews by Arihant Publishers

Details

Author:

Arihant Experts

ISBN:

9789350941317

Edition:

2016

Book Format:

Paperback

No of Pages:

330

Language: English (

en

)

Publisher:

Arihant


Average Rating: No rating yet !!!