Writing PPDT story is little bit tricky. Check out 7 golden tips for writing best PPDT stories in SSB interview. Read on to know how to write good stories for PPDT pictures shown in SSB interview.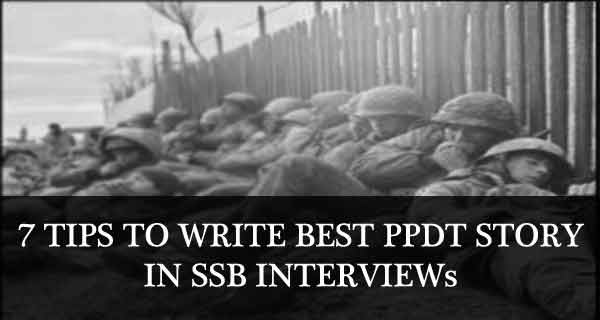 SSB PPDT Picture Perception and Description Test
Picture Perception and Description Test or PPDT is the second test of SSB Stage-1 screening. In PPDT, a picture is shown to you for 30 seconds and time is given to you to write a story on it. After writing the story, you are asked to narrate the story with the group that you are in.
Just as important SSB is for joining the defence, PPDT is as important for going to Stage-2. Here is the compilation of some tips which you can use to write the best PPDT story according to the SSB recommended candidates.
When the picture is shown, note down in answer sheet the number of characters, their age and gender, their mood, what has happened, what is going on, future probable actions and the final result.
Now, for the part of making a story, elaborate the observations to form a meaningful positive story in 200-250 words spanning over 2-3 paragraphs.
The 1st paragraph describes 'What has happened', the 2nd paragraph describes 'What is going on' and 'Probable Future Actions'. In the final paragraph, write a positive outcome of your story and how the characters are benefitted from it.
In PPDT, either directly or indirectly, you are showing your OLQs. So, make the story authentic and not the one which you have memorised while practising. Writing authentic stories make it meaningful. You can take inspiration from real life examples or even from your personal life. This way, you can make the story way more authentic.
Just write the story based on the Picture shown. Note every detail of the picture. Do not make your own deductions in the picture, like creating another imaginary character or steering away from the situation.
Do not overthink while writing your story. It's pure waste of time and shows a lack of authenticity.
Perceive the shown picture in just one sentence. This is most critical part and this is where your personality is displayed. For instance, in the following picture, my first perception is "Gorkha Soldiers Resting after Training Exercise". But for some others, it may be, "Soldiers martyred after a battle with enemies". So, it all depends on your thinking.
Sample PPDT Picture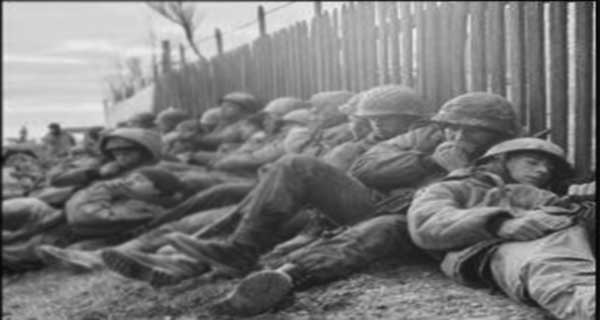 Now, after your first impression, try setting a background of your story. For e.g. "Weekly 10k Run for the Soldiers".
Now you've got everything you need for making a story.
Sample of one of the best PPDT stories for above picture
One can write any story on the PPDT picture shown in the SSB interview. Here is one such story of PPDT picture shown above which is best example to showcase Officer Like Qualities.
"A 10km run is organised every week as part of military training. The fierce Gorkhas had their training day on Saturday. This is conducted to keep the soldiers in the top-notch condition and increase their stamina.
But today was unlike any other day – summer at its peak at 48 degrees. But the never giving up warriors that the Gorkhas are, they embraced the challenge and started to run. All the way in between helping comrades and motivating them, they completed their exercise successfully and without any injuries.
Now, they are taking some rest after the run before they can go and get fresh to enjoy their dinner and celebrate their Sunday."
Here you display the OLQs as follows:
1st Para: Stamina, Likes to Run
2nd Para: Not giving up, Embracing New Challenges, Comradery, Sense of Responsibility, Motivation
3rd Para: Liveliness, Stamina, Social Adaptability
So, this was an example of how to write a good story in SSB PPDT test. Practice regularly with online PPDT story writing tests to make the best out of your story.